Swimming Pool KITS
PolyBloK above ground pools
Above ground swimming pools of more or less any shape, size or depth can be built using the PolyBloK system.
It is particularly useful when installing a pool inside an old barn where the barn walls hide the above ground swimming pool and excavation alongside old masonry walls of dubious stability needs to be avoided.
Just contact us to buy a full instruction book and the PolyBlok Kit that you require to undertake your project.
The best type of pool to achieve the above objectives is a polyblok pool with a vinyl liner as shown in the following sketch - just click on it for a bigger image.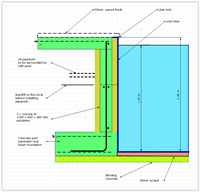 We can supply a full kit for construction of a pool like this including:
Vinyl liner
Through wall parts
Pump
Filter
Pipework
Extended season air source heat pump
UV water treatment system
Background Chlorine injector
Bubble cover for summer
Winter Safety cover
The typical price for a 10 x 5 m pool including packing into a container would be about £10,000 - £15,000.
We also provide a comprehensive installation manual and a backup helpdesk by email, phone and Skype.
Above Ground Pools in Timber
If you want to buy and install an above ground pool in timber I suggest that you consider the GARDIPOOL range that we supply.
With a wooden swimming pool kit in a simple hole dug in the garden - this can easily be carried out in about a week on a DIY basis or with the help of a local builder.
Just click on the image for a large picture
They will cost about 50% of the cost of a concrete pool (or kit) and last just as long. They are also easy to remove if that is eventually required.
Above Ground Swimming Pools in the UK or France
Temporary or Portable Pools
One of the main advantages of an above ground pool or on ground swimming pool in either the UK or France is that you do not have to bother about getting planning consent - provided that it is temporary or portable - and after all any above ground swimming pool is portable - Is'nt it?
Inflatable splash pools
Sometimes these are called splash pools and many are inflatable with an inflated ring around the top that floats on the water in it and maintains it's shape. These are a clever design and very cheap if you just want a pool for the kids to splash in and to cool down in yourself.