Above Ground Swimming Pool Design and Installation and the Installation of a Pool in an Old Barn or Outbuilding
PolyBloK above ground pools
Above ground swimming pools of more or less any shape, size or depth can be built using the PolyBloK system.
It is particularly useful when installing a pool inside an old barn because:-
The barn walls hide the above ground swimming pool
Excavation alongside old masonry walls of dubious stability needs to be avoided unless you want to underpin the entire Barn!
You can work out exactly how much your pool kit will cost by using our on-line PolyBlok pool cost tool - just follow the instructions below.
Deck support system
We are often asked about the best way to build timber decking around an above ground pool.
The following illustration shows how the foundations can be easily installed so that the decking is completely level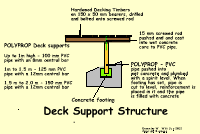 This approach works equally well inside an old barn or for an outdoor above ground pool.
Swimming pool kits
Every above ground PolyBlok swimming pool kit includes the following:-
Supply of the polybloks
Supply of the pool through wall equipment including skimmers, inlets, vac point, main drain(s) and high quality flexible pressure pipe for the buried pipework (Eliminates a lot of joints and the risk of underground leaks)
Supply of 75/100 plain colour vinyl pool liner, liner lock, stop (to keep the liner in the liner lock in winter) underfelt and glue
Supply of new filtration pump, filter, multiport valve, manifold and control box with pump auto-timer that provides a complete pool water change every 6 hours
Transport of the Polybloks and pool equipment to site
A comprehensive instruction manual that you or your builder can follow
Full telephone, email and Skype support during office hours