Basement Swimming Pools
Every Indoor swimming pool that Bluepools designs has a Basement because we always put the pool plant room and pool equipment in the "Undercroft" that is located underneath the deck that surrounds the pool.
(Click on image for large pic)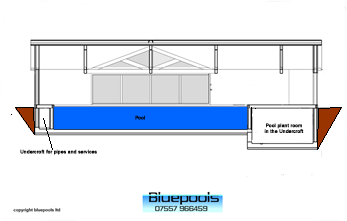 Bluepools is also managed by a very experienced civil engineer that has been designing very large holes in the ground for the last 40 years or so - and so Bluepools knows all that there is to know about Basements.
Basement Construction Contractors
There are lots of Basement Construction Contractors in and around London that have lots of experience in the design and construction of basements.
But most of them have very limited in-depth knowledge about the Design and Construction of Swimming Pools.
As a result if you allow your Basement Contractor to Design your swimming pool without the input of a Swimming Pool Designer that really knows what he is doing - you are very likely to end up paying a lot of money for an inferior product.
Get Bluepools on board as part of your Project Team
If you add Bluepools to your Project Team of Architect and / or Basement Installation Contractor you will make sure that the swimming pool is exactly what you require - and the earlier that Bluepools is involved the more valuable the input will be because the actual layout of the basement area will drastically effect the Options available for the Design of the Swimming Pool.
Basement Swimming Pools Have a Reputation For being Very Expensive
This is true but it is often cause by the lack of detailed knowledge and expertise by the Basement Project Team.
Bluepools would be pleased to join your Team to ensure that the Design is optimised and the Costs are minimised.