Pool Size, Shape and Depth Options for UK Pools
The Flexibility in Pool Shape provided by Polystyrene Block Pool or "PolyBloK" Construction
One of the biggest advantages of Polystyrene Block Pool construction is that you can have any size and shape of pool that you want!
Pools with different shaped do not cost a lot more but do allow you to be a bit more original with your swimming pool design.
Some of the possibilities are shown below - but if you want something different - just let us know.
And the curved sides only costs a very little more because the curved blocks themselves are slightly more expensive.
Pool Shape Options
These are as follows:-
Flat Bottom Pools
These can be provided with water depths of 1.05, 1.35, 1.65 or 1.95 metres.
Hopper Pool with Safety Margin
This is the pool shape that most people prefer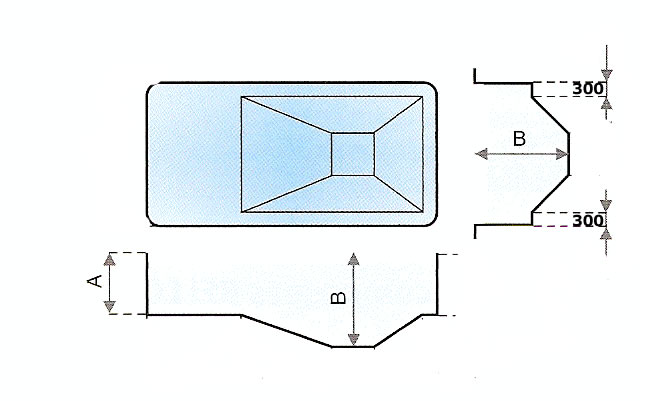 In a hopper pool of this type the Dimension A is normally 1.15 m and B is 2.15 giving a water depth of about 1.05 on the flat area of the pool and 2.05 metres in the hopper.
Wedge Shaped Pool

In a wedge shaped pool of this type Dimension D1 is normally 1.15 m giving 1.05 m water depth and D2 can be 1.45, 1.75 or 2.05 metres deep. A is normally equal to C and are commonly about 0.25 x the pool Length L
These pools are more expensive than hopper pools becaue of the increased wall height, the extra polystyrene blocks required, the increased amount of wall reinforcement and the increased liner area.
The liners never fit quite as well in these pools, simply because the tension in the liner is greater at the deep end than at the shallow end.
Angled Pool

In these types of pools the pool floor can be a hopper with a safety margin or a wedge.
Kidney Shape

In this type of pool any shape can be produced that is based on a multiple of blocks of 2.0, 3.0 or 4.0 metres Radius. If a hopper is required it will need to be circular on plan.
Pool Steps
The Different Options
These designs are based on French Polybloks but can be built using UK sourced Polybloks.