Why Choose to Install a Fibre-glass Pool When Wooden DeckPools are Much better Value?
Comparison between Fibre-glass pools and DeckPools
Question

DeckPools with Vinyl Liner

Can they be In-Ground, Above Ground or Part In-Ground?

Yes

No - In-Ground only

Guaranteed Structural Life

10 years

10 years

Surface Finish Guarantees against staining

Can surface finish be renewed?

No - new pool is required

Can defects be repaired?

Yes liners can easily be patched and there is a full inventory of spare parts for the "DeckPool" range

No - any surface defects such as dark spots are defects in the gel coat and will steadily get worse as the pool gets older

How long will the pool be usable for without any renovation?

What is the cost of removing the old pool?

Small - pool and the deck around it can be cut up and burnt leaving concrete base in the ground and decking can be reused

Up to 50% of original pool cost - Pool has to be dug out with a digger after the concrete ring-beam that holds it down has been jack-hammered out as well as the concrete deck that is always required around fibre-glass pools

How Risky is the installation?

No Risk at all - Dig down and cast a concrete base at the level you want and then build the wooden pool by slotting the tongue and groove boards together

Very risky - has to be delivered by low-loader and craned into position - in many cases the pool has to be lifted over a garage or the house - never undertake by DIY or Local Builder

How costly is the installation?

Depends on how much In-ground you want to go - even fully In-ground it should not cost more than £1000 for a small pool and £2000 for a large one

Must alwys be fully inground - excavation, sand backfill, ring-beam, haulage and cranage will result in costs in the £2000 to £4000 range because of the plant and skills required

Can decking be used around the pool

Yes - the Bluepools Wooden Pool Range are called "DeckPools" because of this feature

No - concrete paving and paving flags are required to keep the pool in the ground and keep the ground around the pool dry and stable

How do the sizes compare

Wooden pool dimensions provide the actual water area

Glass-fibre pool measurements are over the whole structure and the swimming area is about 10% less

How much do they cost by comaring swimming areas?

8m x 4m x 1.46m deep - £9,650 + VAT

9m x 3.8m x 1.5m deep - £14,000

+

Health and Environmental Pros and Cons

The "DeckPool" range is made from sustainably managed forests in accorandance with the PEFC regulations

Fibre- glass pools should be made in modern factories where the air quality control is rigourously maintained - this is not the case in Eastern Europe where most of these pools are made
If you want to see Details of the "DECKPOOL" range please follow this link
Strong and Durable Construction is good for Yachts but not for swimming pools
Nearly all pleasure boats and yachts are made of fibreglass and when you consider just how costly a million pound Sunseeker boat is you will appreciate the strength and inherent durability that this material can provide.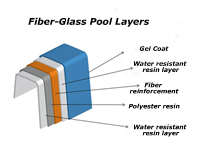 Fibreglass pools are constructed from a one-piece fibreglass shell. During manufacture, steel reinforcing bars and perimeter buttresses are encased within the shell to ensure maximum strength.
The mould on which the layers are sprayed looks like this:-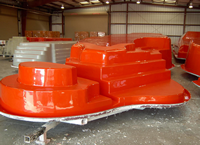 Fibreglass construction results in a smooth gel-coated free flowing surface with no joins or seams to leak or hide unwanted bacteria.
Here the fiber-glass pool is being lifted from the mould:-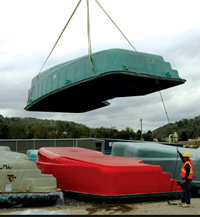 Cleaning is easy and leads to low maintenance. The reinforced fibreglass shell can come with a 10 year guarantee.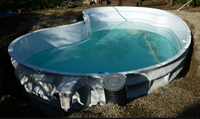 Choice
There are hundreds of different models and shapes available from several UK suppliers that provide top quality pools that vary in size from about about 4 metres long and 2m wide up to 12 metres long and 4m wide.
There are a selection of different shapes, sizes and colours, varying from circular to rectangular, with most models including internal steps for access and social areas ensures that you will find a model that fits your requirements.
One has to be careful when comparing sizes because fibreglass pools are measured on the external plan dimensions of the actual fibre-glass and this may be 300mm outside the water line of the pool.
Word of Warning
If you think that your property where the pool is going to be installed is in an area of swelling clay (London Clay or Weald of Kent for instance) then special provisions may be necessary.
Bluepools will advise on this indetail in the Survey Report. Any cost advantages that fibre-glass pools may have will soon disappear in these circumstances!
Similarly there are countless instances when fibre-glass pools have been emptied and they have "popped" out of the ground.
This occurs when water levels in the ground around the pool are higher than the pool water level – and the pool acts like a fibre-glass yacht!!
The pool needs to be anchored to the surrounding deck concrete as well as ground de-watering facilities in these circumstance – and Bluepools knows how to deal with these issues as well.
The Installation Process
Normally the pool supplier will provide a detailed dig profile drawing and full installation instructions for their pools and this caters for any variation between particular brands or types.

Excavation
First the pool shape is set out with line marker paint, string and pegs.
The pool should then be over-dug enough to allow for some manoeuvrability when lowering in the pool, around 250mm all around is normally sufficient.
The depth should be over-dug by about 120mm to allow for the bed of pea shingle which the base of the pool is supported on.
With a constant depth pool, the pea shingle will be level. With a sloping base pool the shingle will be graded to the particular angle of the base as indicated by the dig profile that the pool supplier should provide.
Screed rails set to the right levels and slope can take all the hassle out of this process.
Groundwater is a major issue with fibre-glass pools as if the pool is empty and there are high groundwater levels around the pool it can float – just like a fibre-glass yacht does.
Bluepools will consider this issue during the design process and make sure that any necessary precautions are taken.
The Delivery
The pool will arrive on a low loader lorry that is equipped with a crane.
If the excavation is prepared and accessible, the driver can lower the pool directly into it.
Alternatively it can be set to one side and lowered in at a later stage by manpower if it is a small pool, digger or crane.
The Installation
The access to the lower parts of a fibre-glass pool shell can be difficult after the pool has been placed in its final location and so it is better to connect lengths of flexible pipe to the low suctions points to avoid later trench work.
The pool should be back-filled to about a third of its depth with 6mm pea shingle and the four corners checked for level. Low corners can be lifted to allow the pea shingle to run into the small void that is created.
When the pool is level, it can be filled to about third of its depth with water and the levels checked again.
The skimmer, inlets, light and pipe work etc. can be fitted at this stage and then the backfilling can proceed with pea shingle up to the underside of the deck around the top of the pool. The filling with water needs to continue at the same time as the pea shingle to ensure an even pressure.