Stainless Steel Deck Level Pool Design
These stunning pool - especially when indoors can look like this - please click on the image to see a bigger graphic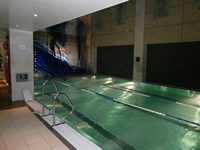 Why use stainless steel for a swimming pool?
Chlorine and humid warm air are a very corrosive environment for metals and materials. Stainless steel has a long history of success in swimming pools and has a lower corrosion rate than any other metal that is economic to use.
It is highly suitable for the walls and floors of swimming pools but the right grade of stainless steel needs to be selected and the whole facility designed to optimise access for maintenance and cleaning,
During construction stainless steel pools are very superior to concrete tank pools because:-
The walls and floors of a stainless steel pool can be installed in a week or so - not the several months that a concrete tank takes
The stainless steel pool can be filled and used immediately - the months of curing and drying times for the concrete tank, its waterproof lining and tiled finish are avoided entirely
The weight of the structural pool walls is negligible when compared with concrete - this significantly reduces the loading on the support structure and foundations - very important when a pool is to be installed in a multi-storey building
They are much cheaper
They last longer - provided they are properly designed and maintained
What is a Deck Level Swimming Pool?
They are called this because the water level in the swimming pool is maintained at pool deck level.
Practically this actually means the level of the deck on the outside of the channels that surround the entire pool. These continuosly drain water from the pool whenever the pool filtration system is in operation and give that constant pleasant sound of running water that you hear when in one of these super pools.
This design approach removes the step in level between the pool and surrounding deck - that you always have with a skimmer pools and so makes the pool seem to be a lot bigger than it actually is.
However the most important benefit that a deck level pool provides is that the overflow channels very effectively and constantly remove and filter the surface layer of pool water that contains a large proportion of the pathogens, bacteria and organic matter that exist in every swimming pool
This all makes a deck level pool ideal for indoor installation
The deck level pool effect also provides a modern contempory feel to the pool that ideally suits health and fitness clubs where ambiance is so important.
It is vitally important to get the design and installation of the overflow channels 100% correct so that:-
The pool looks good
They are the correct size for the pool water to be filtered properly
They are safe for swimmers to walk on
They are easy to clean and maintain
They are visible and accessible from the pool undercroft areas so that any corrosion can be dealt with
These over-flow channels can be built and covered in many ways.
The channels can be in concrete, PVC, fibre-glass or stainless steel and the gratings can be in PVC, stainless steel or even reconstituted stone
Sometimes reconstituted stone is used to form a slot so that a grating is not required - this can give very dramatic visual effects.
There is no doubt that stainless steel is particularly suitable for the design and installation of a deck level pool because it has many advantages over heavy concrete and tiled pools and is ideal for all new commercial pools.
Stainless steel deck level pools look like this:-
Typical commercial stainless steel pool installation in a health and fitness club. Please click on the image for a bigger graphic.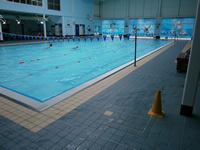 Typical commercial stainless steel hydrotherapy pool installation in a health and fitness club. Please click on the image for a bigger graphic.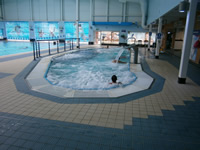 Typical stainless steel over flow channel - note typical signs of corrosion because welds have not been cleaned up properly. Please click on the image for a bigger graphic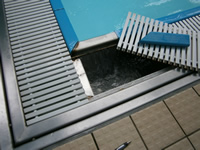 Typical stainless steel pool wall details
Please click on the image for a bigger graphic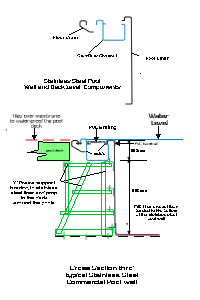 There are companies that specialise in stainless steel pools but at the end of the day it is juat a different material that has its own characteristics that need to be taken into account during design.