Pool Lights
The Design of Pool Lights and Lighting
For a water feature to really shine, especially at night, proper lighting is critical.
If you have gone to the trouble and expense of lovely fire and water features you must be able to show them off in the evening - like this

Incandescent lighting used underwater or to illuminate a stream of water, costs about £400 per light.
LED lighting costs more but has a much longer life.
Waterfalls are often lit by using feature spotlights from above, and should be installed by a lighting specialist.
Everything that you need to know about LED lights
LEDs (Light Emitting Diodes)
are solid-state lighting that use chips from semiconductors instead of a filament, gas or vapor to produce illumination and do not have light bulbs.
They last much longer and use far less energy than any light bulb.
Color-changing pool and spa lights that feature LED technology
is definitely the future of pool lighting in simply because of energy efficiency, lifetime value, quality of light, and controllability.
Combinations of individual colored LEDs can be mixed and matched by careful design to achieve a vibrant spectrum of colors. These are combined in different sequences to cycle through colors at varying speeds, and in different sequences of color.
With custom reflectors and various lens types LEDs offer super efficiency at the same time as being the brightest underwater LED light available.
LED's can last 100,000 hours or more, minimizing replacement cost and disposal.
LED technology is the brightest and most responsive lighting system
that has ever before been provided for pool lighting to make your pool really comes alive.
LEDs are:-
Extremely efficient and can save up to 90% on energy costs comapred with halogen or incandescent lights
Streamlined and watertight and easy to install.
Have no bulbs to change
No moving parts for noiseless and service-free operation
Are cool to tough when turned on
Are more shock and vibration resistant than incandescent or halogen lights.
The absence of bulbs, tubing and delicate filaments makes it easier and less expensive to build underwater light displays
Do not contain mercury or produce EMI emssions

LED lighting has the longest lifespan of any light on the market.
The life of a single LED light can last up to 100,000 hours - up to 70 x - yes 70 times the maximum life of a standard light bulb. This reduces consumer inconvenience and maintenance costs because it rarely needs replacing.
And can produce displays like this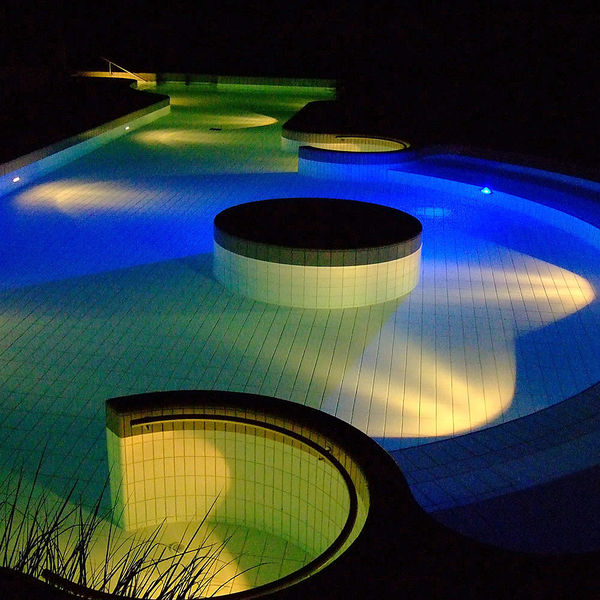 page content