Pool Safety
Outdoor Inground swimming pools
In France all outdoor in-ground swimming pools must be protected by a system that conforms to theAFNOR standards regarding the provision of safety devices. (These all have the objective of preventing young children of less than 5 years old drowning in the pool). The law does not apply to above ground pools
There is no similar legislation in the UK but many parents will be worried about the risk involved when they have young children and so will find the information on these pages of the website useful.
Bluepools can verify from its own direct experience that Pool Fences and Pool Alarms are very poor value for money. The fences that are sold as being AFNOR compliant can and are knocked over by large dogs and the alarms constantly go off for no apparent reason.
But the opportunity for young children to enjoy swimming activities and learning the various swimming strokes should not be taken away just because parents are worried by even younger children drowning in the same swimming pool.
There are three practicable ways of making a swimming pool safe for young children.
1) Hard Barriers
Provide a hard barrier around the pool with a lockable gate. Concrete block walls can beused for this purpose - they are not pretty but they can be screened by plants in pots.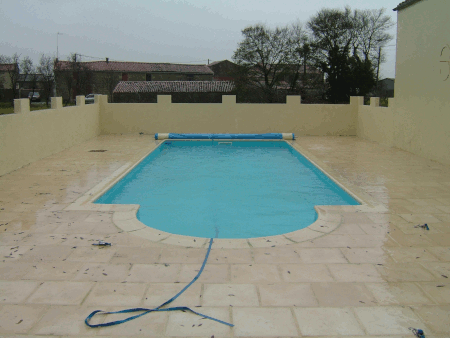 This is a lot more attractive and Bluepools can supply these fences made from stainless steel posts and specially toughened laminated glass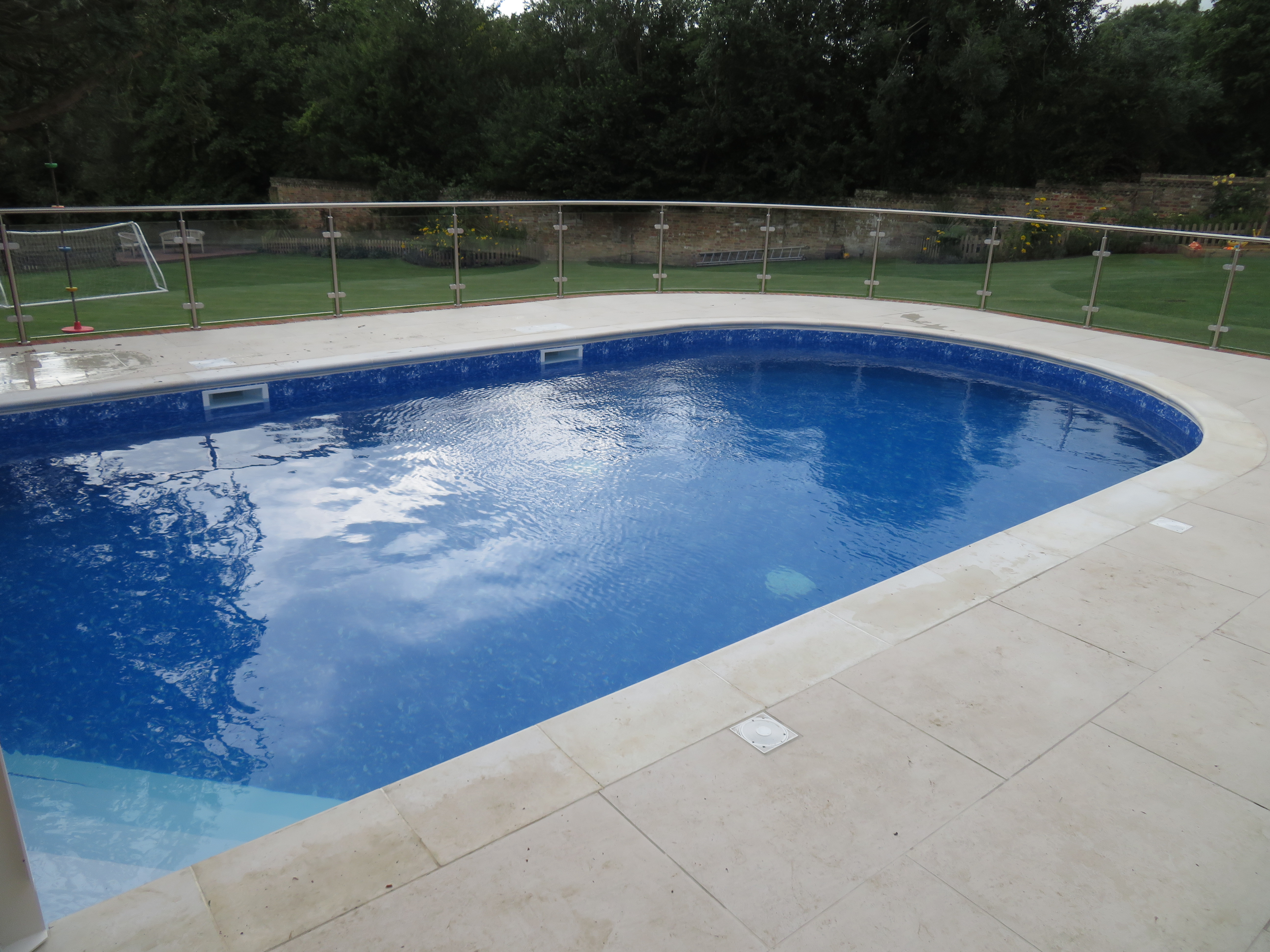 2) Enclosues or Abris as they are hnown in France
They look like greehouses and they behave like greenhouse i.e. They are ugly, unbearably hot in the summer and cold in the winter unless heated at considerable cost. But they are credible safety devices and they do extend the swimming season by about 6 weeks in the spring and 6 weeks in the autumn. The telescopic models need wide deep expensive ground beams that will not deflect and also have the advantage that they are classed as temporary and so do not need planning permission (in theory)
See Review of Abris and Enclosures
3) Automatic Floating Covers
Bluepools considers that automatic floating covers are the best solution to the safety issue and under French law they comply with the AFNOR regulations. The really odd thing is that the UK based wholesalers do not sell them as safety covers despite the fact that they are exactly the same covers that are sold in France and the rest of Europe. They can be the "Above Ground " type or the "Submerged" type that are a good bit more costly.
These covers also:
Insulate the pool and reduce heating costs by up to 70%
Keep the pool water temperature down in the winter avoiding algae growth
Stop animals from getting in the pool
Reduce evaporation and water loss (particularly important in indoor pools)
Safety Devices & their Standard Number are approved by law in France:
Swimming Pool Fences and Fencing
Safety Barriers (Fences) - Final Standard published NF P90-306
Swimming Pool Covers
Safety Covers – Final Standard published NF P90-308
Swimming Pool Alarms
Pool Alarms - Final Standard published NF P90-307
Swimming Pool Shelters
Pool shelters - Final Standard published NF P90-309
The French Law on Swimming Pool Safety
This states that:
Open-air pools, buried or partially buried, for private individual or collective use, built from Jan 1st 2004, must be fitted with a standardised safety device.


Pools built before this date must comply by Jan 1st 2006. However seasonal letting properties must comply by May 1st 2004 (amended from the original deadline of Jan 1st 2004).


Failure to comply is punishable by a €45,000 fine. "Collectively used pools" are not open to the public but only to customers and owners, such as those in the grounds of hotels, restaurants, campsites, seasonally let properties and pools shared by several owners.


Legally, you may use any one standardised device. However the CSC (French consumer safety commission) prefers barriers and their combination with other safety measures.
Insurance
Ask your insurance company for advice and your letting agent if your property is let. Many people do not realise they may require additional public liability cover (responsabilité civile) if they let their property.
Sundry details
You are not going to be able to build your own safety device from normal DIY materials. But you can build a 1.1m metre high wall with smooth sides that cannot be climbed by a child.
You should only purchase devices that have a statement of conformity naming the standard to which it conforms. All standardised devices have instruction manuals. Read and keep these. Think ahead to winter and how a device will be used. Will it be compatible with your existing pool covers?
NF P90-306 Safety barriers and gates
A barrier can be combined with walls and sides of buildings. These walls must be a minimum of 1.10m at all points and must be non-climbable. Any access points to the pool must be equipped with a conforming device.
For collective use any means of access must be both self-closing and self-locking. There must be no items outside the barrier that can be used to stand on within a 1.10m radius from the top of the barrier, such as flowerpots or bicycles. The standard recommends a barrier is installed no less than 1m from the pool nor too far that it loses effectiveness.
NF P90-307 Alarm system
Perimeter or immersion alarms must be installed so that the alarm can be heard in all properties using the pool and a rescue made within three minutes by an adult. When deactivated to use the pool the alarm will reactivate after three minutes of inactivity, should you forget to manually reactivate.
If you have a contre-courant system be aware this may stop automatic reactivation. Although devices are tested not to give false alarms, if you have a robot cleaner check it is compatible with the alarm.
NF P90–308 Safety covers and NF P90–309 Pool shelters
Designed to prevent a child falling into the water a cover must support 100kg; a 'bubble' cover is not a safety cover. Covers and shelters must be closed and locked to conform in the absence of adult supervision.
Signs
All the standards recommend signs displayed in the pool area with safety information
The differences in Pool Safety Device Types
Alarms
Fences
Covers
Shelters

Types

Water disturbance sensors and infra-red beams

Metal or mesh supported by metal or composite fibre poles

Manual covers supported by aluminium bars or submerged automatic floating covers

Must be fixed in place to act as a safety device

Cost

Around 400 euros - but bear in mind that they may not work if the summer cover is in place - the summer cover reduces evaporatio and keeps the pool temperature up

Depends on pool size and fence type. Fully AFNOR compliant fencing can be supplied for 65 euros per metre. They need to have a foundation and the gates cost about 500 euros

Winter covers from 13 euros per square metre. Covers with bars from 2000 and from 6000 euros for automatic covers

From 10,000 to 50,000 euros depending on pool type and size

Effectiveness

Many water disturbance sensors will not work when pool is covered by any type of cover or ice. Infra-red devices are set off by animals. If the house is left empty an alarm will not comply and so pool needs to be fenced

The most cost-effective way to provide the safety device in both new and existing pools. A survey is required before retro-fiting to an existing pool. They are also the ugliest solution and the cheaper fences deteriorate in appearance very quickly

Winter covers can be used at a holiday home if supplemented by an alarm when the family is on holiday

Can act as a solar cover as well - but really needs to be motorised to be effective as a safety cover

When the cover is pulled back there is no effective safety device - unless a fence is used as well

Retro-fitting to existing pool

Yes

Yes - but some building work may be required

Covers with bars cab be easy to fit but submerged automatic cover fitting is virtually impossible in most circumstances

Yes depending on type