Small Indoor Pool Designs
Do not rely on Your Architect to Design a Pool House -They need Help!
Bluepools prefers to work with the Client's existing Architect on the Design of the Swimming Pool and Pool Hall or House.
We help them to develop the Concept and then provide all the Design Details of the Pool and Pool House Foundations up to the damp proof course level to make sure that the Capital and Maintenance cost of the Pool House are the most Economic possible.
See the Notes below the following table below for "How to calculate the cost of an Indoor Pool and Pool House"
Description

Click on Thumbnail for large image

Type 1

New purpose built poolhouse with the dehumidification grilles cleverly and unobtrusively installed in the far wall of the pool house

Type 2

Conservatory style pool houses are very popular because they are the cheapest type to install. They can be made to look very attractive when new but if the pool is used frequently it is impossible to control the condensation because there is no vapour barrier in the roof.

Even triple glazing will still provide a steep thermal gradient between cold air outside and the warm moist air inside that will induce condensation throughout most of the winter.

Type 3

Glass timber framed poolhouses like this will normally provide the most economic indoor pool solution and are always better if connected directly to the house - but condensation on the glazed roof panels will always be a problem.

Type 4

The very high windows give lots of light and life to the indoor pool and will always be particularly suitable where the pool looks out over the sea or some other panoramic view.

The above ground floating pool cover winder is cleverly hidden in a housing that matches the poolhouse lining.

Type 5

This elegant design features a moveable swimming pool floor so that the poolhouse can be also used as a conventional conservatory.

Type 6

This form of structure can provide a very striking poolhouse surprisingly economically with plenty of scope for individuallity by variation of the colour scheme.

Type 7

If you have a derelict outhouse or barn this could be the way to go as this very striking conversion shows.

Type 8

If you like pine then this is the way to go because very spectacular but economic designs can be installed using off site prefabrication techniques.

Type 9

Futuristic and very stylish - but this approach only really works with luxury tiles and other up market finishes.

Separate spa is the way to go because the pool and water temperatures and cleaning requirements are so different.

Type 10

We offer you the half and half solution!!

Type 11

The very high bay windows and striking black cross beams turn this poolhouse into a very elegant and stylish structure that connects seamlessly to the garden.

The stunning depth of the Pool Hall is an illusion created by two mirrors that double the number of visual beams.

Note also the very economic timber decking that matches the pine clad walls - perhaps not to everyones taste but a stunning pool with delightful natural lighting.

By the way, the Heatsaver - liquid pool cover - works pretty well in indoor pools that have intermittent use and will substantially reduce both condensation and running costs.

Type 12

Many conversions like this have been carried out in townhouses in the UK and this is a striking example of how a useless space can be turned into a spectacular value addition to a house.

Type 13

This pool might look attractive - but I included it because it is a classic example of HOW NOT TO DO IT!!

It is actually a panel pool with vinyl liner with a built in fibre-glass spa.

There is a massive amount of investment in this pool hall and it has all the hallmarks of being a short term marvel and a long term disaster because:

- The spa water is being mixed with pool water and so the spa will always be too cold and the pool too hot - the water looks filthy and is a result of mixing pool and spa filtration systems

- The water evaporation and heat loss will be immense without a spa cover and the atmosphere will always be damp and the condensation in those velux window wells will be horrendous.

- The humidifier is obviously undersized and does not include a heat recovery system and so the running costs will be very high.

- The panel pool walls and fibreglass spa are cheap and nasty installations that do not justify the money that has been spent on the pool hall.

- Having a bar in the hot damp atmosphere of this pool hall beggars belief - hot tip - Indoor pools are for swimming not for parties - unless you have a pool with a moveable floor...

The only thing to like about this pool is the white timber finish to the roof - but its appearance will soon be marred by condensation.

Type 14

The pool is equipped with a hydraulic cover that runs in tracks along the pool coping and is very smooth and fast to operate.

This pool was procured by a property developer - it looks magnificent but the filtration system is so undersized that it would be dangerous for 10 children to swim in that pool at once.

And a fortune has been spent on the finishes but there is no automatic chlorination system.
Enclosures or Sliding Pool Shelters
There are some drawbacks to this type of pool house but they do offer an economical way of owning an indoor swimming pool.
From April to September this type of cover will increase the air temperature over the pool by at least 6 degrees C.
The low level enclosure type covers do provide a useful safety device and probably do extend the swimming season for several months.
However, the higher these structures are - the more prone they are to being damaged by winter winds.
Type 1

The name says it all - these are clumsy looking yet effective structures that give some of the advantages of both indoor and outdoor swimming pools - not sure about the red bits though?

Sliding lean-to telescopic Enclosure

Basic Cost is £200 per m2 of ensclosure area

Type 2

There is no doubt that it's impossible to take a photo of these low level enclosures and make them look attractive - but they still extend the swimming season and make the pool pretty safe.

Low level sliding telescopic enclosure

Basic Cost is £150 per m2 of ensclosure area

Type 3

There is not a lot that can be said about this.

Moveable ensclosure

Basic Cost is £200 per m2 of ensclosure area

Type 4

This looks a bit more like it! These up market ensclosures can be supplied in timber or aluminium frames with a surprisingly good paint finish - but be warned - they are not cheap!

Telescopic enclosure on rubber wheels

Basic Cost is £350 per m2 of ensclosure area

Type 5

These are really conservatories and also come in a bewildering variety of materials, shapes and sizes.

Fixed Bent Timber Frame Enclosure

Basic Cost is £250 per m2 of ensclosure area

Type 6

This is definitely the only form of an ensclosure installation that we like. A high level removable roof that is unobtrusive and out of the way works well visually - but it cannot act as a safety device when used in this way.

High level enclosure

Basic Cost is £200 per m2 of ensclosure area

Type 7

The higher these structures are - the more prone they are to being damaged by winter winds - I would only put one of these in an unexposed location.

The Best Value Enclosure

Basic Cost will be round £400 per 2
Indoor Pool Costs
How to calculate the cost of a Private (Not Commercial) Indoor Pool and Pool House:
Firstly, decide "how big your indoor pool is going to be" - they can be anything from a spa sized 4 x 2 metres up to a 25 x 4 lap pool.
Then calculate its area and the pool house size factor from this chart.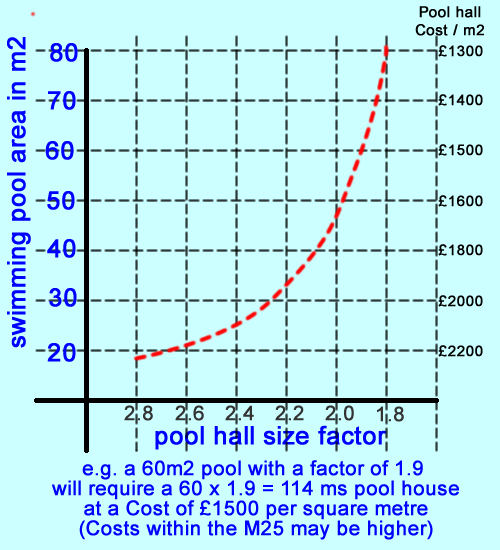 When you have calculated the pool area, multiply this by the Size Factor from the graph above.
The Costs per square metre in the table below are the total cost of the pool and pool house based on the pool house size. The size factor assumes that the pool has a 1m space around it on 2 x long sides and 1 x short side and 3 metres on the other short side. The pool plant is housed under the concrete pool deck that surrounds the pool within the pool house.
So for example an 8 x 4 metre pool will require a pool hall of 2.2 x 8 x 4 = 70 square metres and so the cost of the pool and hall will be 70 x £1400 = £98,000 on a Self-Build basis.
More Examples are shown in the table below.
The cost of carting excavation arisings off site to a tip can be very high and if the pool is to be tiled the cost will also increase substantially.
The costs will also depend on the qual;ity of the floor, ceiling and wall finishes as well as pool equipment such as automatic covers etc.
| | | | | |
| --- | --- | --- | --- | --- |
| Pool Size | Average Cost / m2 | Factor from Graph | Pool Hall Size | Total Cost |
| 6 x 4 | £2200 | 2.4 | 58 m2 | £127,000 |
| 8 x 4 | £2000 | 2.2 | 70 m2 | £140,000 |
| 9 x 4 | £1900 | 2.15 | 77 m2 | £146,000 |
| 10 x 4 | £1800 | 2.1 | 84 m2 | £151,000 |
| 10 x 5 | £1600 | 1.95 | 98m2 | £157,000 |
| 12 x 4 | £1600 | 1.95 | 94 m2 | £150,000 |
| 12 x 6 | £1400 | 1.85 | 133 m2 | £186,000 |