Self-Build Swimming Pools
This is not DIY!
Self Build pools are where the Client acts as Project Manager and lets sub-contracts to several Trade Contractors - although many Clients muck in an do quite a lot of the work!
If you are planning to Self-Build an indoor or outdoor swimming pool, Bluepools can assist and advise you throughout the Design and Installation of Your Swimming Pool Project.
The way it works is that Bluepools becomes your Pool Consultant so that the expertise of a Pool Installation Contractor is not required.
It is much easier to Self-Build the pool when you have a comprehensive set of Design Drawings and the Specification that Bluepools produces for every project - and the risk of getting something badly wrong is eliminated.
Bluepools also provides all the pool equipment from top quality suppliers so that the pool Self-Builder does not have to worry about the nitty - gritty of making sure that all the parts fit together properly and pool installation is not delayed because some vital part has not been ordered.
Bluepools also provide a comprehensive installation manual and will be on Skype or on the telephone or email providing advice and guidance to the Self Builder and/or his sub-contractors from Concept to Completion throughout the working week.
Planning Consent
Unless your property is in a conservation area, planning consent will not be required because it will come under the Permitted Development Regulations. (For indoor pools the maximum eaves height of the pool hall is 2.5m with a maximum ridge height of 4m)
An outdoor pool does not even require Building Regulation approval - but an indoor pool does.
Architect Designed Pools
A word of warning about indoor pool design by an Architect.
They always design the pool hall with conventional deep strip foundations and then show the pool with its own seperate foundation. As a result all the pool fittings and pipework is buried in the soil between the swimming pool and the pool hall foundations.
If there is a leak from any of these fittings your expensive pool hall floor will have to be dug up!!!
Futhermore the ductwork that is required to provide warm dry air to the pool hall glazing has to provided in ugly overhead ductwork because it is very difficult to protect buried ductwork from rust and corrosion.
It is no more costly to provide one large flat foundation slab for both the pool and pool hall foundations as shown here. (click on thumbnail for large picture)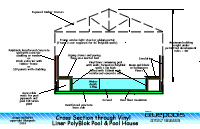 Below Ground or Above Ground Indoor Pools
The best way to build an indoor pool is to have the pool hall floor at about 150mm above general ground level so that the pool tank and pool plant rooms are below ground. This is the best design from the aesthetic and usability points of view but is will cost quit a lot more because substantial volumes of soil have to be carted off-site and the basement (below ground areas) need to be structurally robust, insulated and provided with land drainage systems.

The more economic option is to have most of the pool tank above ground with the pool plant room also above ground. The headroom over the pool is also limited to just over a metre adjacent to the pool hall walls and access to the pool is provided by steps.

The total cost of an indoor pool hall and pool is also very dependent on the area of glazing and the quality of the interior and exterior finishes to the pool hall and roof.

Bluepools always strives to provide all the requirements that its Client has and so we examine all the Options and provide Cost Estimates so that you can match your requirements to your budget.

The Process described below is set up with this objective in mind and is basically the same whether for Indoor or Outdoor Self Build pools.


The Bluepools Approach To Self-Build Pools

The Bluepools approach to Self Build Pool Design and Installation works like this:-

STAGE 1 - DESIGN AND ESTIMATE

☻ Bluepools visits the site for a Site Meeting with the Client to identify the detailed requirements, and takes the necessary measurements, photographs and utility location details.

☻ Bluepools considers the requirement and develops outline 3D sketches and pool plans ands emails these to the Client for comment.

☻ Bluepools incorporates the comments and provides a revised sketches

☻ This continues on an iterative basis until the Client is completely satisfied and approves the Design

☻ Bluepools then provides a Preliminary Estimate of the Cost of the complete Pool Installation (this will include an estimate of the cost of wall and roof finishes, any special foundations, retaining walls, paved areas and underground plant rooms etc)

☻ The Client approves the Final Plans and the Cost Estimate

☻ Bluepools provides the Fee Estimate for the Detailed Design in Stage 2

STAGE 2 - DETAILED DESIGN AND QUOTES

☻ Bluepools undertakes the detailed building and pool equipment design and provides the documents for pricing by Trade Contractors

☻ Bluepools undertakes the detailed structural design and provides a Folio of drawings for Building Regulation Approval (Indoor pools only) including structural design calculations and steel reinforcement schedules

☻ Client obtains quotes from Trade Contractors for the supply of building materials, the pool hall construction, the pool installation and the installation of the pool equipment.

☻ Bluepools provides a quotation for the supply of the specialist pool equipment from EITHER Certikin (the No1 UK pool equipment supplier OR the UK branch of Procopi (the best quality pool equipment supplier in France) OR Heatstar (Indoor pool equipment specialists)

☻ Client now has fixed prices for the whole pool project

STAGE 3 - INSTALLATION

☻ Client places the orders with the Trade Contractors and with Bluepools for the pool equipment

☻ Building Control Inspector is commissioned to inspect the work for compliance with the Building Regulations

☻ The Self-Builder / Trade Contractors install the pool and Bluepools provides the pool equipment and a "Help Desk Service"

☻ The Trade Contractors are paid stage payments after each stage of the work is complete

☻ Bluepools visits the completed works to check that everything has been installed properly and supervise the installation of the liner, the filling of the pool and the commissioning of the equipment

CONSIDERATIONS

Bluepools provides this service on the basis that the order for the supply all the equipment including liner, cover, air source heat pump and mechanical ventilation, and all the other specialised pool equipment is placed with Bluepools Ltd.

This equipment is provided at list price at the amounts quoted during Stage 2

This method provides the pool Self Builder with substantial benefits:-

☻ The actual purchase of the equipment requires a lot of background knowledge and experience - especially for things like liners. And if the liner, plumbing or electrical parts do not fit there will be costly site delays when parts have to be re-ordered.

☻ Bluepools advises the pool Self-Builder impartially on the advantages and disadvantages of each product from the point of view of cost, efficiency and expected life.

☻ Bluepools provides its pool Self-Builder Clients with copy orders for all the equipment and details of the manufacturers warranties so that they can go back to the manufacturer even if Bluepools is no longer around for some reason

☻ Bluepools checks that everything has been installed properly and then supervise the installation of the liner, the filling of the pool and the commissioning of the equipment

☻ There is a simple division of responsibility - the Self Builder is responsible for all the building and installation work and Bluepools is responsible for the Specification and capacity of the Pool Equipment.

The Method described above will provide a reliable budget for the total cost of the pool installation before the Client is committed to the Project and eliminates the Risk involved in paying a Pool Installation Contractor up to 25% of the Total Pool Cost before he even starts on site.

FEES

The Bluepools Fee for STAGE 1 is normally £1200 + VAT and is due before STAGE 1 commences.

The Bluepools fee for STAGE 2 depends on the design complexity and the services provided during the Quotation Process and the Scope of Work will include

○ Structural landscaping design to allow excavation arising disposal on-site
○ Design and Calculations (Structural and Heat and Power) for submission for Building Regulation Approval
○ The preparation of a Folio of drawings in A3 format by an architectural technician for the Builder to price and for Building Regulation Approval
○ A pool Installation Manual for the Builder to Follow
○ A Schedule of the Work Scope including Building Material quantities for the Builder to price
○ A detailed Schedule of the pool plant and equipment including quoted costs

There is no fee for STAGE 3 because Bluepools makes some profit on the specialist pool equipment,
The Bluepools team is looking forward to hearing from you
Call or Text to 07557 966 459