Swimming Pools in France, Italy and Spain - Custom Concept and Rapid Installation - Save up to 50% on Any Luxury Pool
We have been building small cheap pools, large luxury pools, infinity pools and natural pools in France since 2004 and so we do know what we are talking about!
We now believe that the Self-Builder route is the best way to get a pool installed in the current economic climate where every pound must be made to count. This is not DIY - the pool installation contractor is simply replaced by Bluepools and a local builder that you trust - or you can even DIY the pool type that we recommend below!
So if you want to avoid the Risk involved in using a French based Pool Installation Contractor then this webpage will be the most Important one that you will ever read
Bluepools originally operated from Jonzac in Charente-Maritime in France before Will Witt moved back to the UK in early 2013.
Between 2004 and 2012 Bluepools installed nearly 100 pools in South West France as pool installation contractors - we were so busy during 2007 that we had 3 pool installation teams on the go!
What can go wrong with pool installation in France?
In a word - just about anything - here are some typical quotes that I have heard in the last 10 years:-
"The pool filtration system was undersized ….the dirty pool water made all the kids ill when it was hot last summer"
"We bought a panel pool kit that cost a lot…. We had to empty the pool this spring and one of the long walls has moved about 2 inches into the pool…. I'm worried that it is going to collapse"
"We used a one man band pool firm …….He started in March, took 8 months to build it! … and so we could not use the pool until the next year"
"The digger driver just turned up and dug the hole without any drawings ….. We ended up with a pool where the rain water from the lawn drains into it – and the algae growth in the pool is incredible whenever it rains"
"We never had any drawings of the pool…Just an Estimate …And the Roman Steps were half the size that we were promised by the salesman!"
"We did not have any contract documents … just a hand written Estimate ….when they hit ground water problems the final amount that we paid was over 2 x the Original Estimate"
"We paid him 10,000 Euros up front …..And we have now had a big hole in the garden as well as a great mountain of dirt ….for over a year ….he has just disappeared!
What is the best type of Swimming Pool to install in France?
Most peoples requirements for a holiday home pool would include the following:-
It must be as cheap as possible but last at least 20 years
It must be very attractive and inviting in appearance with sparkling water
The risk of being ripped off by a pool installation contractor must be avoided at all costs
It must be easy and straightforward to build using the Bluepools Self-Builder route
The best type of pool to achieve the above objectives is a polyblok pool with a vinyl liner as shown in the following sketch - just click on it for a bigger image.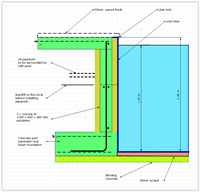 We can supply a full kit for construction of a pool like this including:
Vinyl liner
Through wall parts
Pump
Filter
Pipework
Extended season air source heat pump
UV water treatment system
Background Chlorine injector
Bubble cover for summer
Winter Safety cover
The typical price for a 10 x 5 m pool including packing into a container would be about £10,000 - £15,000.
We also provide a comprehensive installation manual and a backup helpdesk by email, phone and Skype.
Declaration Préalable
In France every permanent pool installation has to have the Declaration Préalable documentation. We can do this at a reduced fee if you buy a polyblok pool kit from us,