HOW MUCH WILL YOUR OUTDOOR POOL COST???
To find out exactly how much your Self-Build Outdoor Pool will cost please click on the link below that takes you to our unique Polyblok Pool costing tool.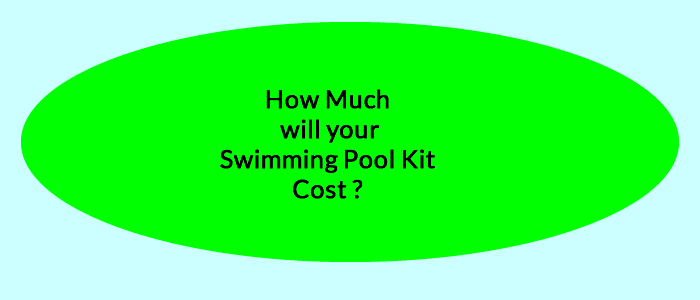 Within a few minutes you will know exactly how much your new outdoor self-build pool will cost.
And if you want to purchase a kit just print the Cost Estimate off as a pdf file and email it to us with your full address and post code and we will send a Quote with the Payment Terms and Delivery Cost. We can also send these kits abroad to France as the Polyblok Pools are ideal fro French site conditions - we have built hundreds over there in France so we do know!
This service is ideal for builders with Clients that want swimming pools because we provide detailed drawings with each kit and the kits can be tailored for Bespoke site conditions. Bluepools also operates a Help Desk by telephone and Email to fully support the Builder during the pool construction period
The only cost that is not included in the Estimate is the labour cost of construction and installation.
You will be provided with a top quality pool that will last for ever and enhance the value of your property - panel kit pools, fibre-glass pools and their ilk will only reduce the value of your property.
Above Ground or In-ground Pools
The Polyblok Pool Kits can be used for the Installation of Above Ground or In-ground Pools because the pool walls do not require the support of the surrounding ground.
This is absolutely essential for panel kit pools because they simply will not stand up on their own!!
Every PolyBlok swimming pool kit includes the following:-
Supply of the polybloks
Supply of the pool through wall equipment including skimmers, inlets, vac point, main drain(s) and high quality flexible pressure pipe for the buried pipework (Eliminates a lot of joints and the risk of underground leaks)
Supply of 75/100 plain colour  vinyl pool liner, liner lock, stop (to keep the liner in the liner lock in winter) underfelt and glue
Supply of new filtration pump, filter,  multiport valve, manifold and control box with pump auto-timer that provides a complete pool water change every 6 hours including a UV water treatment system and Background Chlorine injector
A comprehensive instruction manual and draings
A Helpdesk that you or your builder can follow by email, phone and Skype.
The following can be added to the kit:-
Extended season air source heat pump
High power, low cost, counter current units
Automatic cover
Bubble cover for summer
Winter Safety cover
Stainless steel steps or in-pool liner covered concrete steps
Robot cleaner for floor and walls
For use in Old Barns
Above ground swimming pools of more or less any shape, size or depth can be built using the PolyBloK system.
It is particularly useful when installing a pool inside an old barn because:-
The barn walls hide the above ground swimming pool
Excavation alongside old masonry walls of dubious stability needs to be avoided unless you want to underpin the entire Barn!
Deck support system
We are often asked about the best way to build timber decking around an above ground pool.
The following illustration shows how the foundations can be easily installed so that the decking is completely level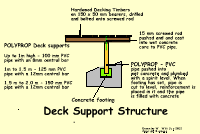 This approach works equally well inside an old barn or for an outdoor above ground pool.
Summer or All year round use for a Pool built in a Barn
If the barn is well ventilated it could be used in the summer months without all the complicated indoor pool equipment that is required to maintain the pool hall environment and protect the fabric of the building.
But if all year round use is anticipated then Bluepools can design and supply all the necessary support and equipment