Heat Pumps for water heating at your UK Swimming Pool
The best Type of Outdoor Pool Heating
In the pool design section of this web-site we explain why we are of the opinion that heat-pumps using air as the heat source are the cheapest and most reliable way to heat the water in an outdoor swimming pool in the UK.
Heat Pump Installation and Running Costs
A top quality heat pump will cost somewhere in the 4 to 8,000 euros range depending on pool size and you should recoup the capital cost in terms of reduced energy bills compared with gas, oil or electric heating after 2 - 3 years.
So in our opinion if you are going to heat your pool - install a heat pump using air as the heat sink. If you cannot afford it you cannot really afford to heat your pool so it is probably best left until you can afford one.
The cheaper heat pumps are getting increasingly reliable and it may be possible to install a single heat pump that will heat the pool and provide underfloor heating in your property.
Heat Pump Details
Bluepools installs Gamme Eden Pac heat pumps with the characteristics shown in the following table.We use Gamme because they are very quiet at a noise level of 65.5 dBa.
They look like this and are about 600 mm high by 700 wide and 300 mm deep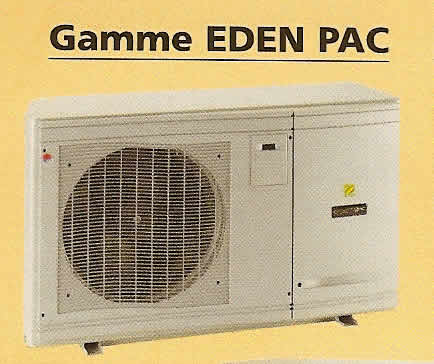 Single phase heat pumps
| Model | Power output (kW) | Power used (kW) | Max. pool volume (m3) | Pool size | Price (HT) euros |
| --- | --- | --- | --- | --- | --- |
| EDEN11 | 8.5 | 1.8 | 0 to 55 | 8 x 4 | 4351 |
| EDEN21 | 10 | 2.04 | 45 to 70 | 10 x 5 | 5459 |
| EDEN31 | 12 | 2.42 | 60 to 85 | 12 x 6 | 5689 |
| EDEN41 | 15 | 3.15 | 75 to 110 | >12 x 6 | 6266 |
Three phase heat pumps
| Model | Power output (kW) | Power used (kW) | Max. pool volume (m3) | Pool size | Price (HT) euros |
| --- | --- | --- | --- | --- | --- |
| EDEN33 | 12 | 2.42 | 60 to 85 | 12 x 6 | 5920 |
| EDEN53 | 16 | 3.22 | 75 to 110 | >12 x 6 | 6554 |
| EDEN63 | 21 | 4.02 | 90 to 150 | >12 x 6 | 8130 |
Fairland Type
Bluepools can also install the cheaper Fairland type heat pumps with a new pool installation