Infinity Edge Pool
13m x 6m - Mirambeau, Gironde Estuary, FR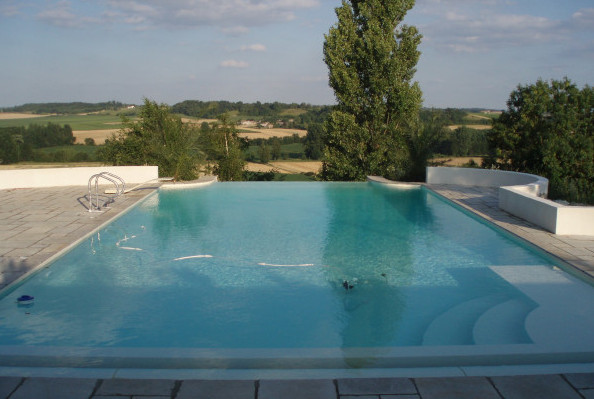 For this project Bluepools was the Design and Build contractor. We took the project over from a French pool builder that had gone bankrupt.
Bluepools also provided all the pool plant including:
Air Handling System
Complex Control System
Pipework
Pumps
Filters
Buidling Works for a Submerged Automatic Floating Cover
Bluepools commissioned all the systems and installed and fine tuned the chemical dosing systems.
(Please click on the images for large pictures).
ORIGINAL PROPOSAL:
This was the original design sketch which we used to seel our proposals to the Client - different from now when we would produce a folio of 20 drawings!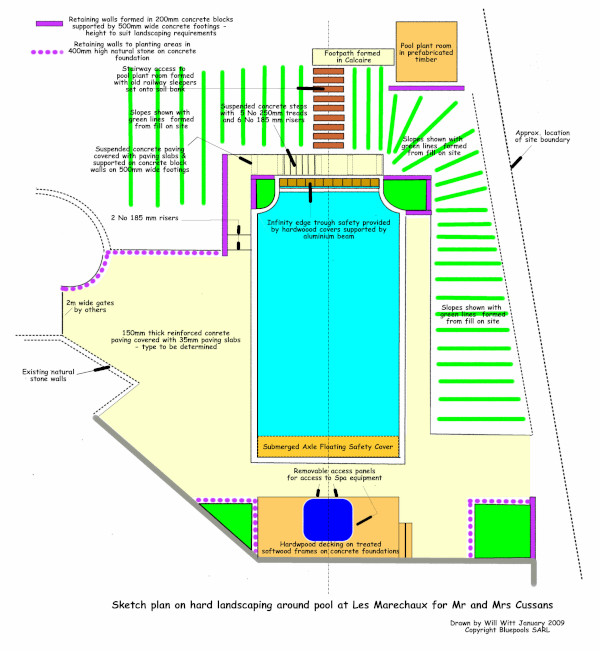 PROJECT START:
When we first visited the site the project had already started and the pool walls were built with concrete blocks: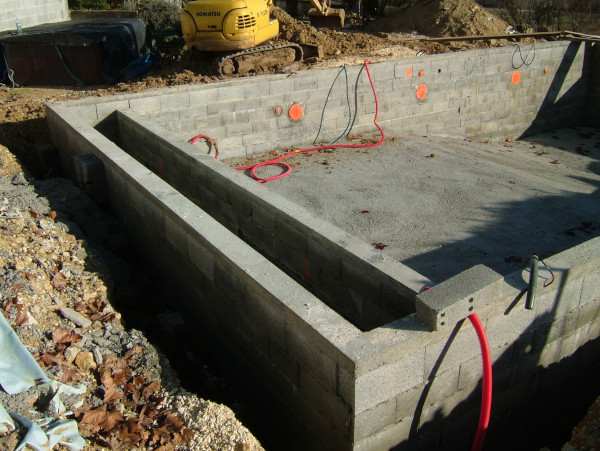 The plant room foundations and the pool connection pipework: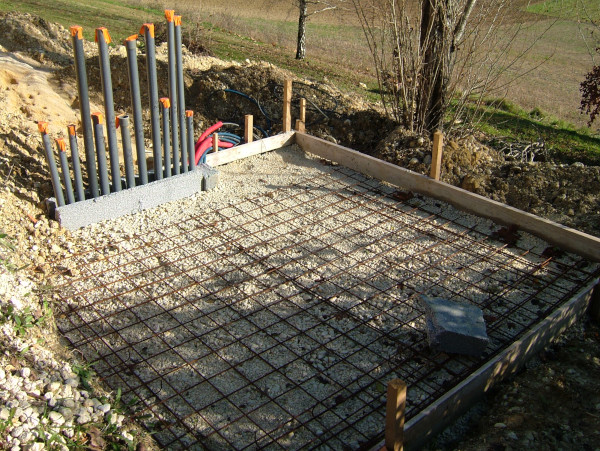 The foundation for the infinity edge collection trough - see the pipework for the floor drains: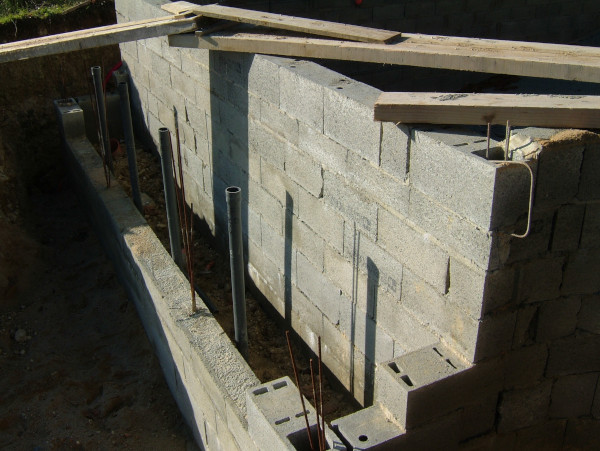 This illustrates what a difficult site this was to work on: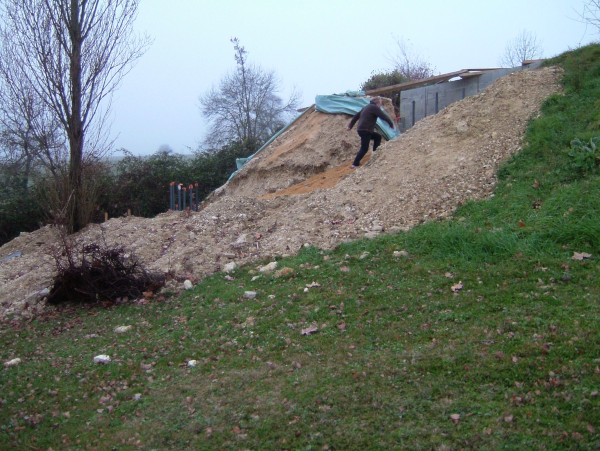 CONCRETING:
Pouring the concrete for the top of the infinty edge trough:
Concreting the slab - I love concrete pumps!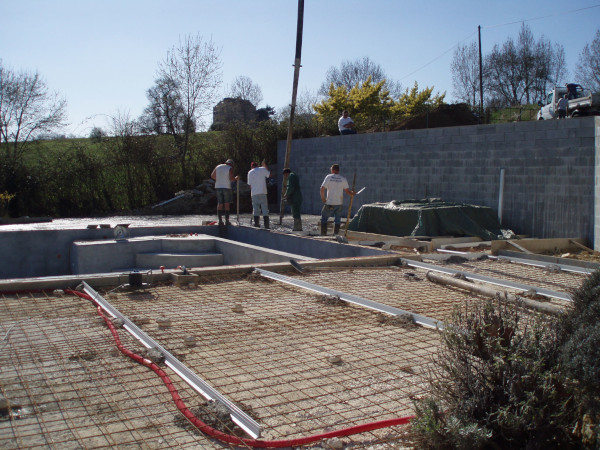 Concreting the slab: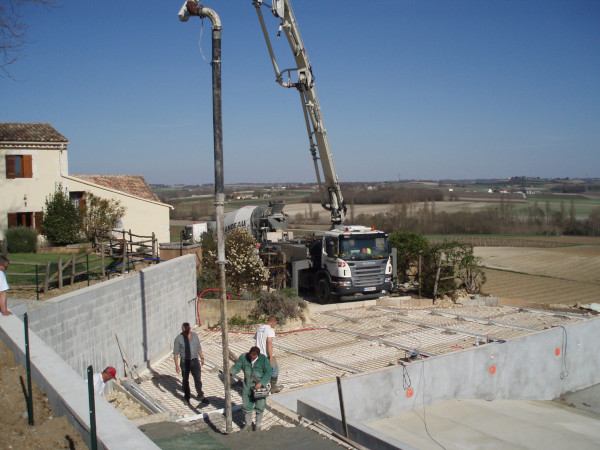 All that concrete poured in one day - 5 truckloads: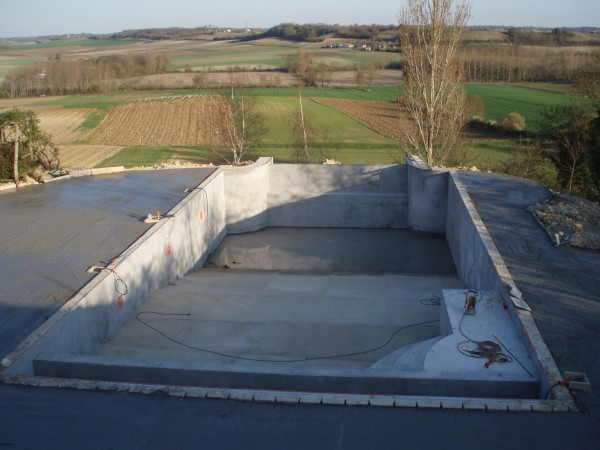 Concrete steps and baja: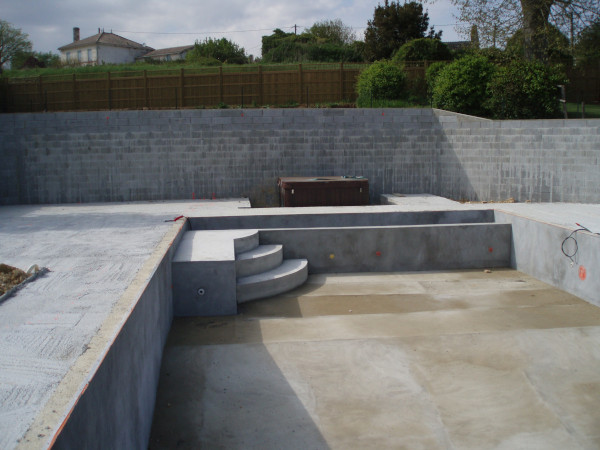 Bluepools was the owner of the 2.5 tonne Komatsu digger - unfortunately it was destroyed in a motorway accident that Will was lucky to survive without a scratch!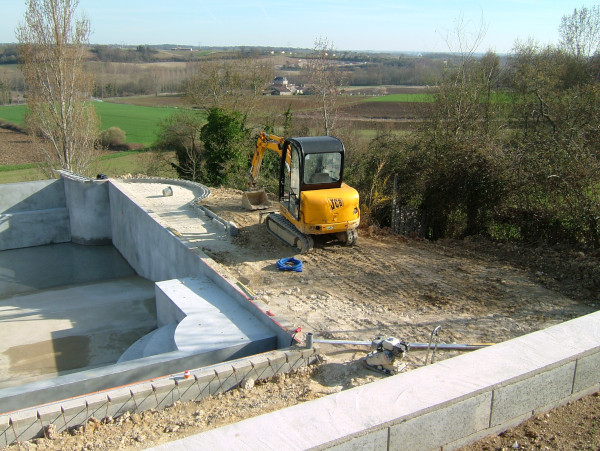 LINER INSTALLATION:
The installation of the in-situ white Alkorplan liner - we used to do it ourselves and not rely on sub-contractors: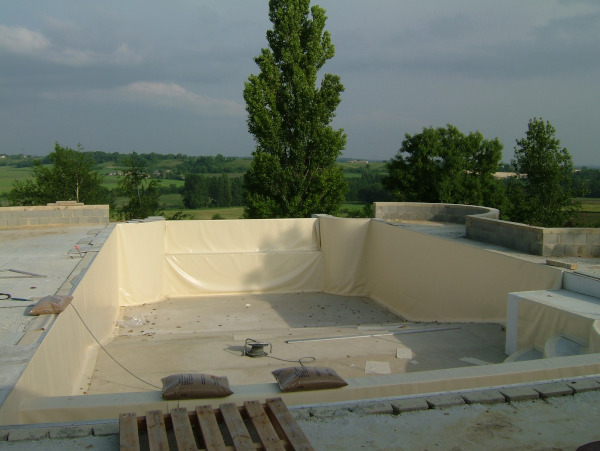 Installing the liner on the steps and the baja: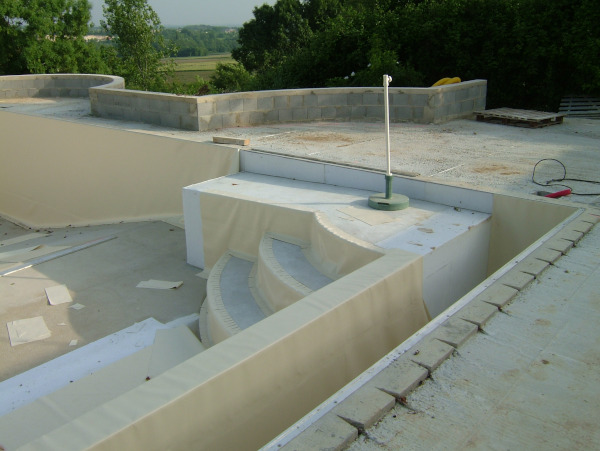 INFINITY EDGE TROUGH:
After the liner installation showing the drains in the infinity edge trough: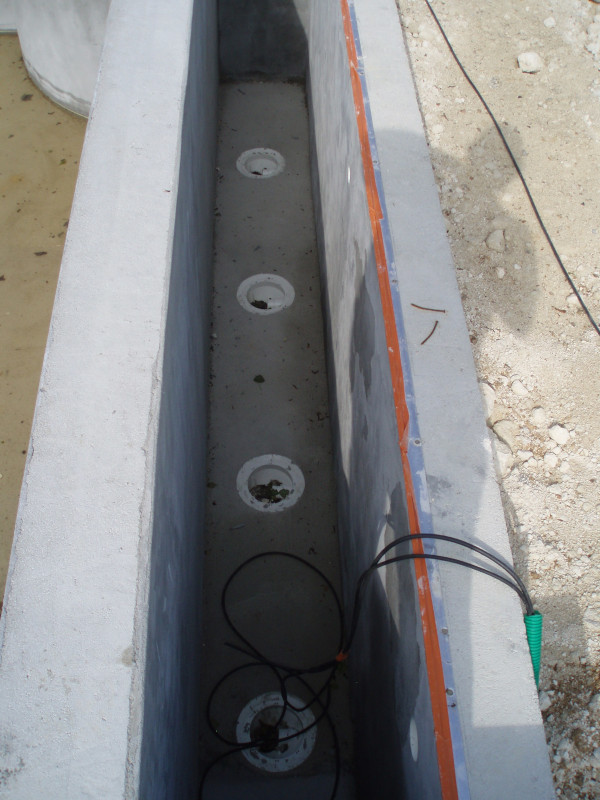 The infinity edge trough in action: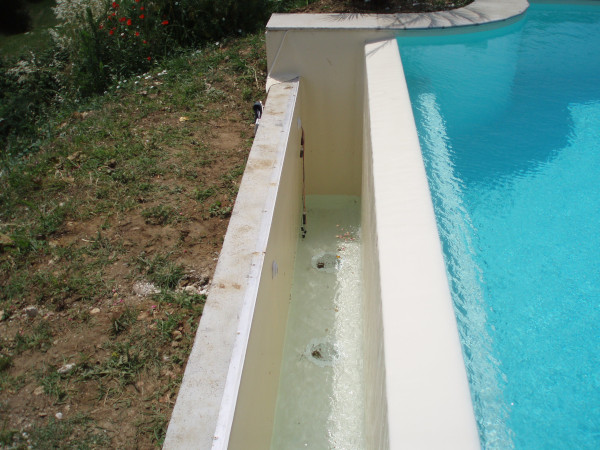 POOL PLANT:
Pool plant: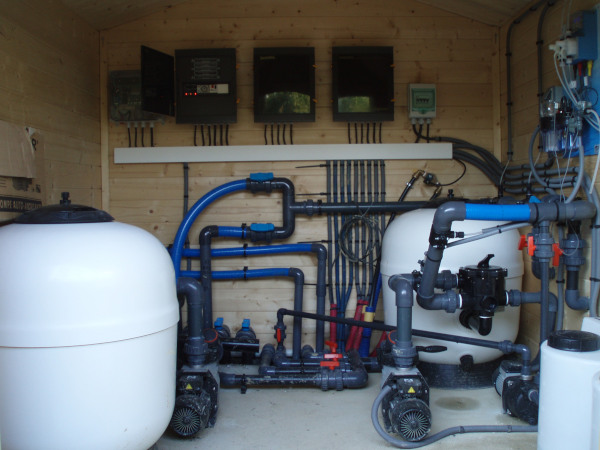 Pool plant dosing equipment: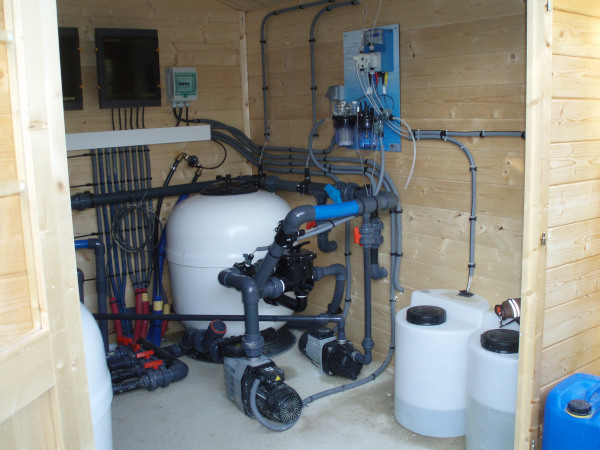 The high capacity air source heat pump: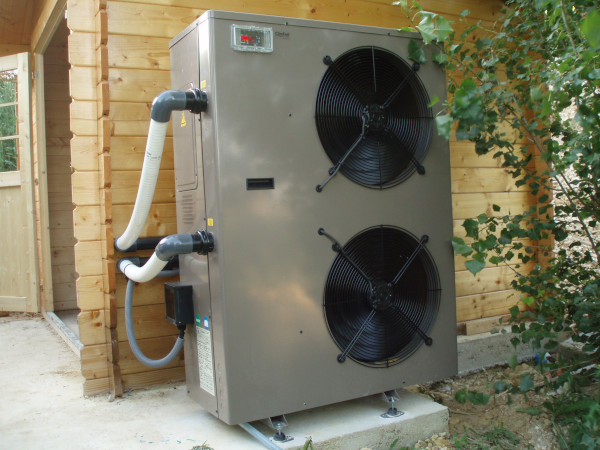 FINISHED PROJECT:
The retaining wall at the back of the property that we also built: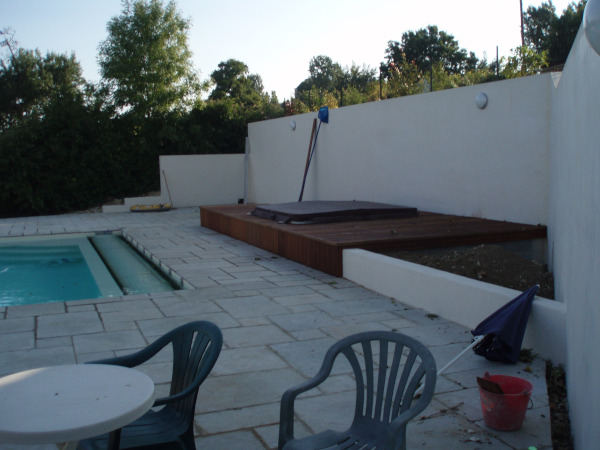 This picture shows the submerged cover without the protective deck units: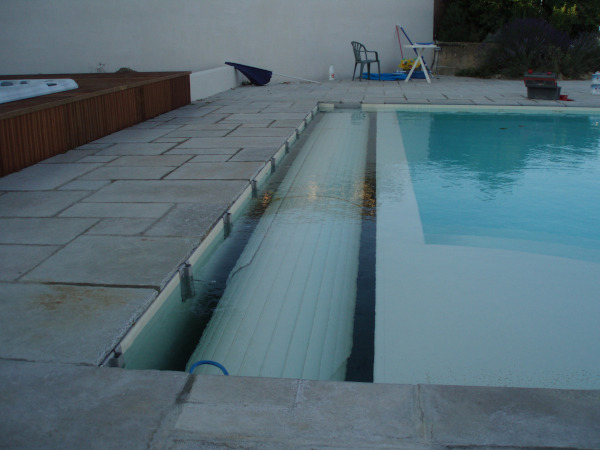 There is no doubt that this is a magnificent pool: