Abris or Pool Shelter Specification
Structure of Abris or Pool Shelter
Normally they are built with structural frameworks that use extruded aluminium profiles because they are relatively cheap, are light and corrosion resistant.
Timber is sometimes used because it looks a lot better but it is much heavier and each component needs to be bigger in size than a comparable aluminium part.
Translucent Covering
This is normally double or triple glazed polycarbonate that is less then half the weight of glass.
It can be single, double, triple or quadruple glazed between 8 and 20 mm thick and made from many alternative synthetic resins.
They are not naturally UV resistant and need to be treated for this when used in an abris.
Glass is the best material in all respects because it is more translucent, is much easier to keep clean, does not discolour or lose translucence as it gets old - but it is very heavy and needs a consequently heavier structure to support it.
Abri or Pool Shelter Types
There are three main types of Abris or pool shelter and these are:-
Lightweight and moveable
Fixed
Telescopic
Lightweight or Moveable Abris
The lightweight or moveable type look like this - click on thumbnail for more detail:-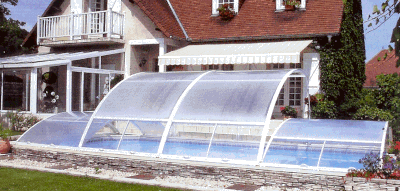 Fixed Abris
These can look like this - click for more detail:-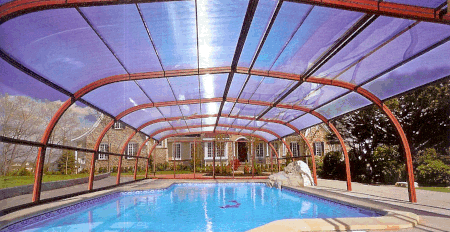 Or like this - click for more detail:-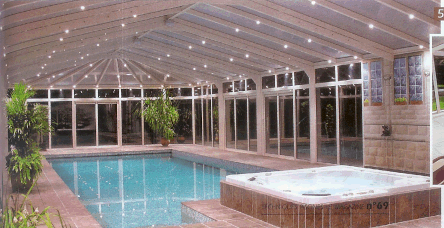 Or like this - click for more detail:-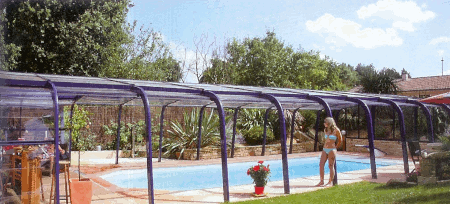 Telescopic Abris
These can look like this - click for more detail:-
Or like this - click for more detail:-